FTHS: Events for 9/23-9/24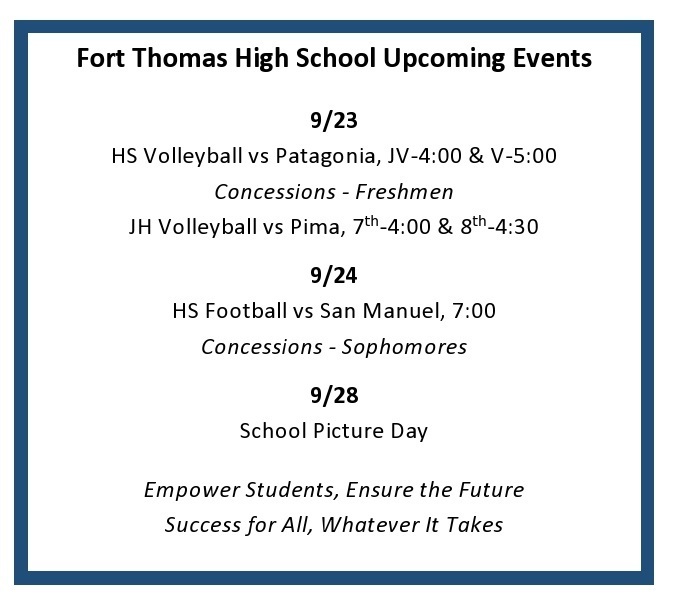 FTHS: The Carpentry students completed & delivered the 1st shed of the school year. Here is a pic on delivery day! Awesome job FTHS Carpentry, keep up the great work!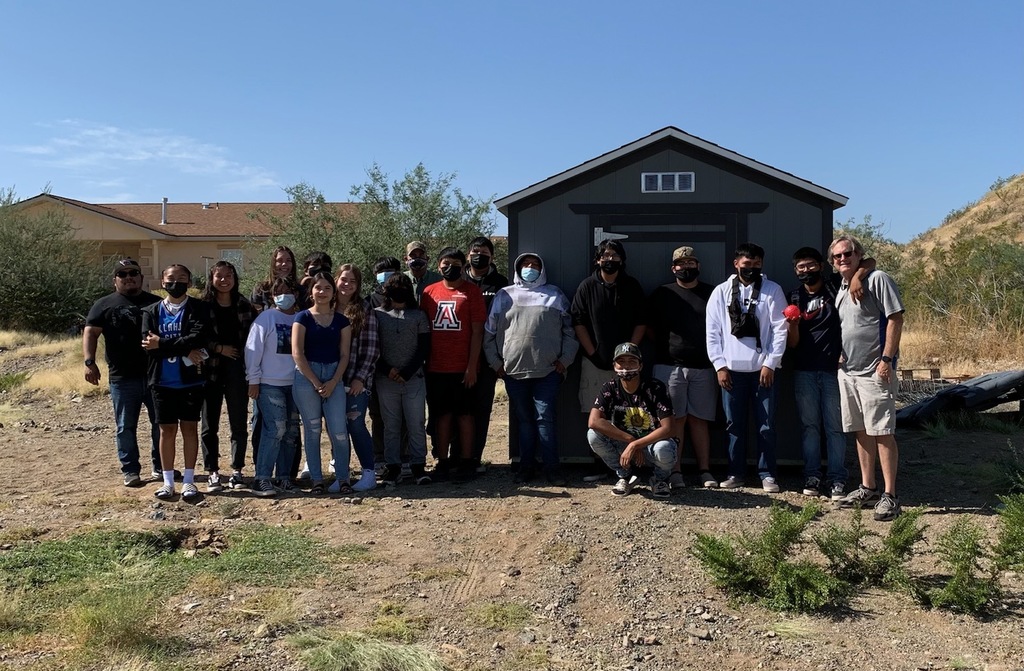 FTHS: The High School Volleyball games today, Sept 21st vs Hayden will be in the FTHS Gym.

FTHS: Just a reminder that the HS Volleyball game today vs Cibecue is a home game at the Elementary Gym with the JV at 4:00 & Varisty at 5:00. Tomorrows HS Football game against Fredonia will be played in Williams at 4:00 pm.

FTHS: Check out the events for 9/13-18/2021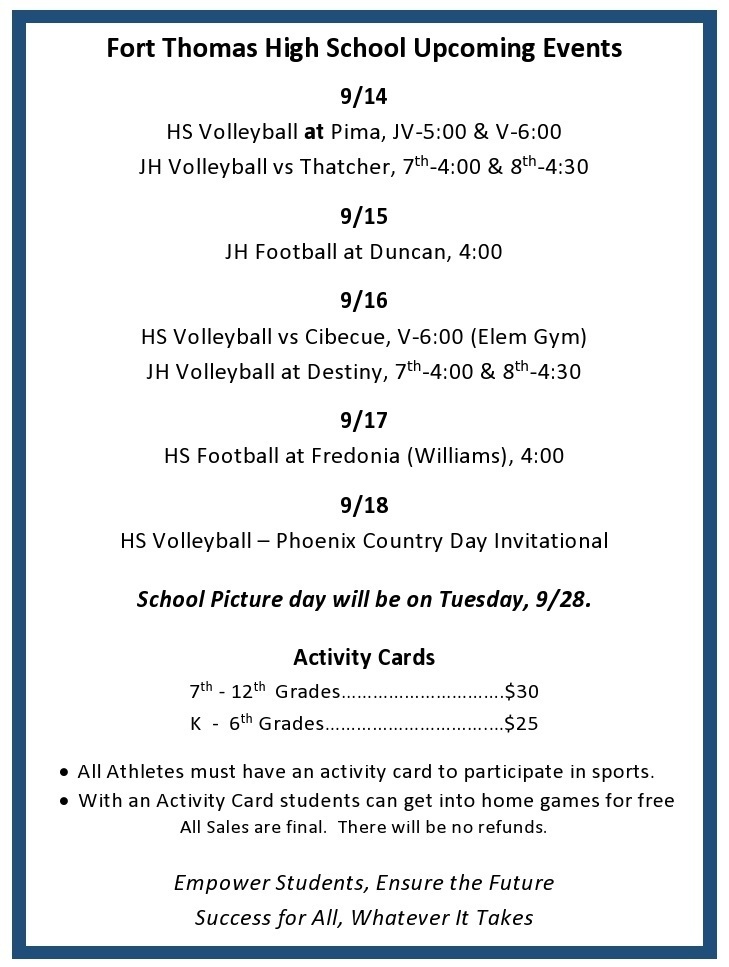 FTHS: Check out the events for September 6-10th.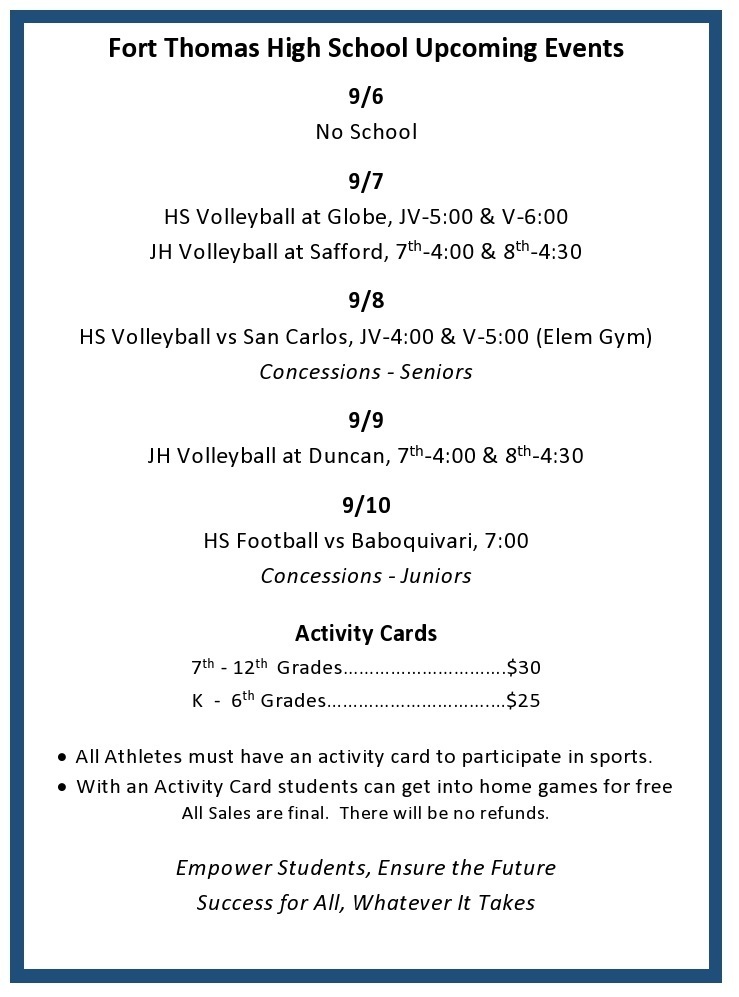 FTHS: Just in, the JH games tomorrow, 9/2, vs Solomon will be 7th-4:00 & 8th-4:30. The 7th Grade will play tomorrow.

FTHS: The JH Volleyball game tomorrow, 9/2, will only be 8th grade at 4:00. There will not be a 7th grade game.

FTHS: Check out the events for 8/30-9/3/2021.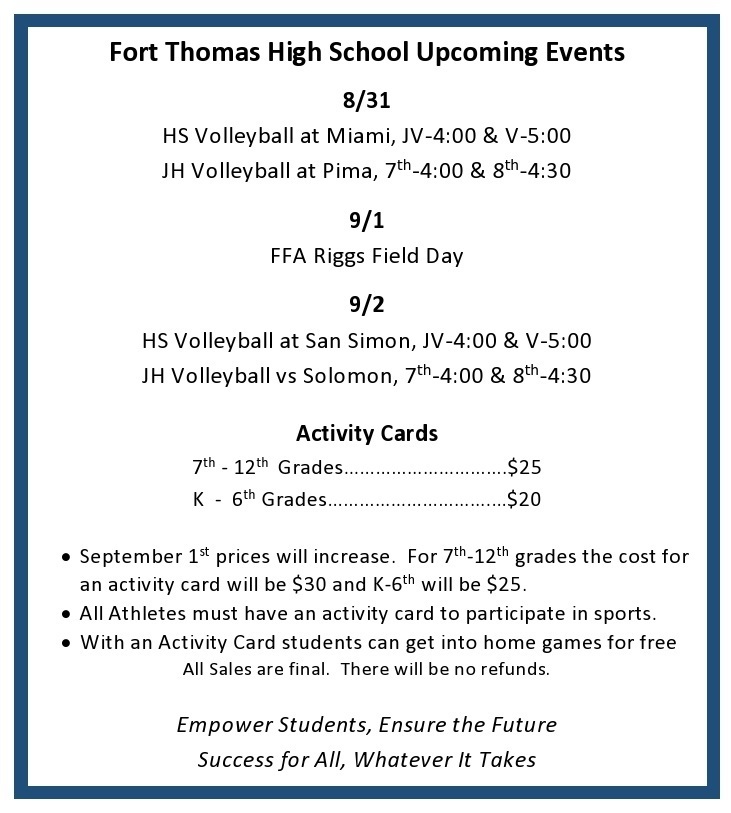 FTHS: All HS football games & practices thru September 8th have been postponed, including the game tomorrow night at Lincoln Prep. We will post the updated game schedule soon. If your student is quarantined and you have not contacted the school or turned in a letter, please do so as soon as possible. If your student has a medical appointment or is home sick, please let the school know and turn in doctors notes. Students may pick up chromebooks for homework and also make up missing assignments when they return to school as well. If documentation is not received, students may be dropped after the 10th day of absence. Empower Students, Ensure the Future Success For All – Whatever It Takes

FTHS: JH Volleyball at Miami today. Per Miami school, masks are required in the building for all fans. Admission is $5-Adults and $3-Kids.

FTHS: More info for events happening this week

"Empower Students, Ensure the Future" As many of you are aware, there have been some of our FTHS students quarantined per the San Carlos Health Department and/or the Graham County Health Department. All of the quarantined students can access their work from home on their school issued chromebooks. We encourage all of those quarantined students to get documentation from the health departments to our school nurse as soon as possible even before they return to school. All other students should be in attendance in-person. If students are not well, but not quarantined they will be able to make up their work when they return. If arrangements need to be made for work while students are absent contact their teachers for that information. We are doing our best to follow our mitigation plan to keep all of our students safe when they are attending in-person. However, if your children are unwell or having symptoms, please have them remain at home. If you are checking a student out of school for the day, they must be signed out in the front office. "Success for All Whatever It Takes, 100/0"

FTHS: Check out the events for 8/26-28/2021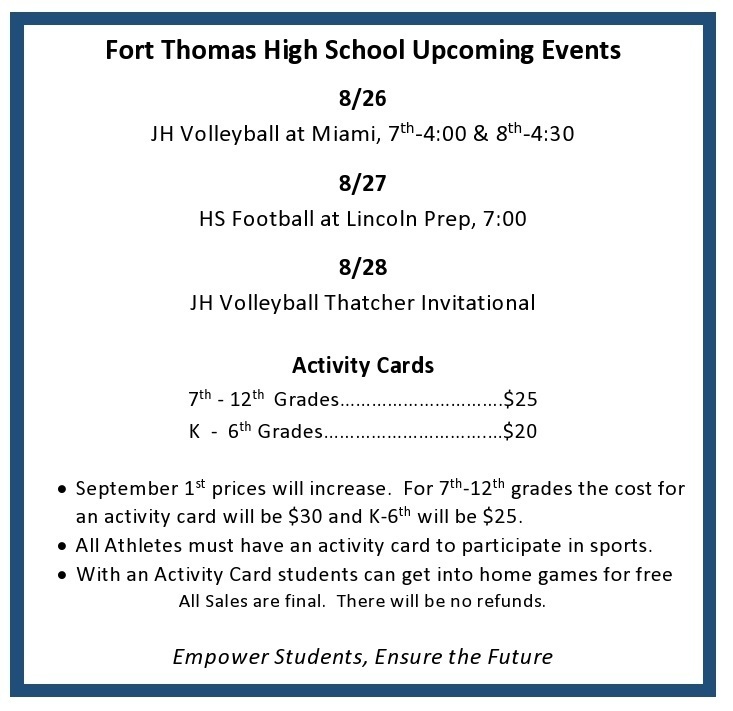 FTHS: Please read the following letter.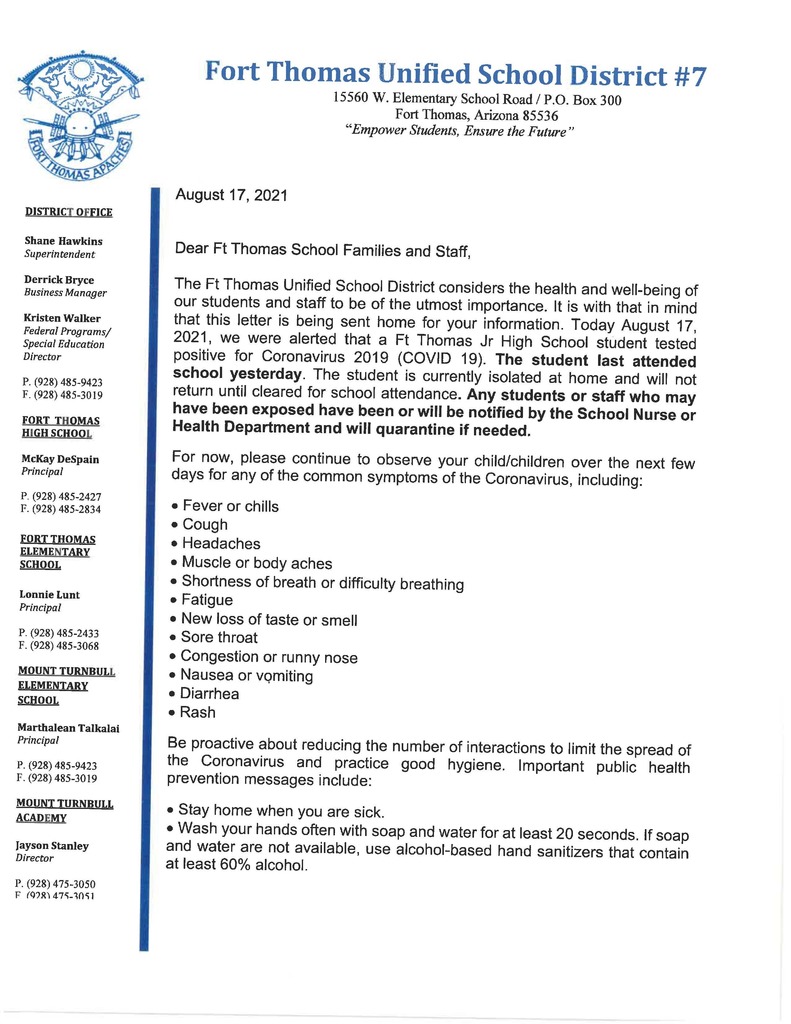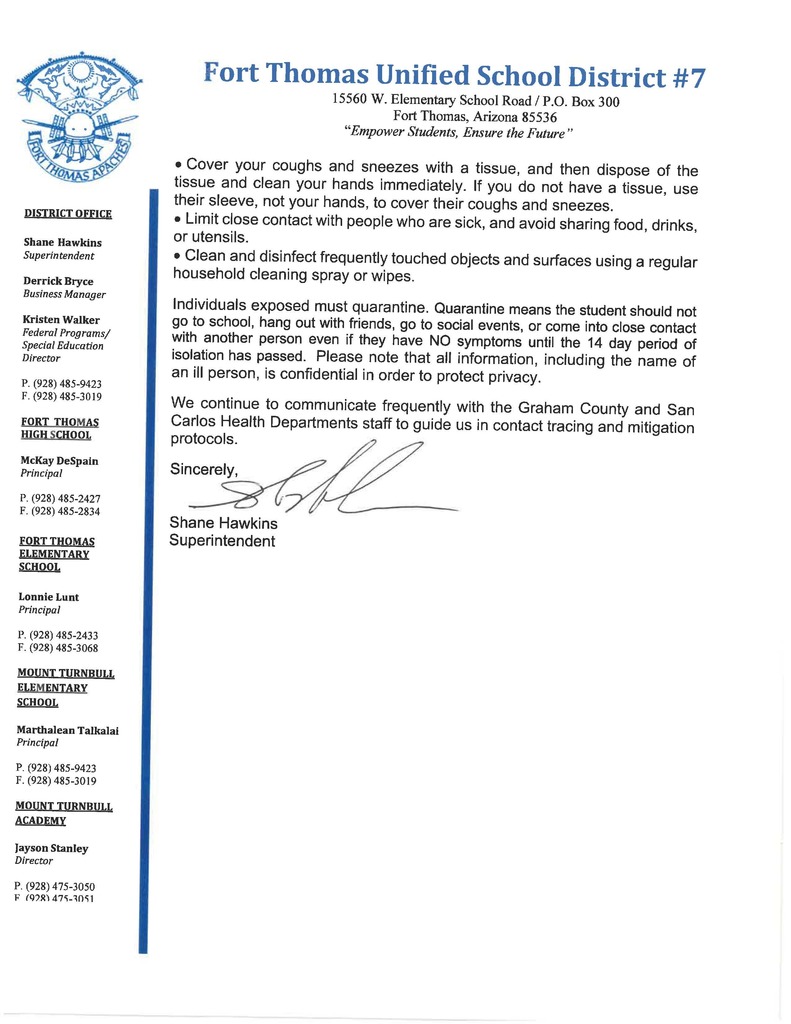 FTHS: Parents, classes end at 3:05. When you check out students early they are missing classes and will be marked absent. Every class counts, help your student be successful by keeping them in class. If you do not want your student to ride the bus, please make arrangements to pick them up out front of the school and wait for the bell to ring at 3:05 pm. Academic Enhancement will start on August 16th from 3:05 – 4:00 pm, with students staying after to receive extra help. If your student is assigned to go, please do not check them out early. The only bus to San Carlos will be leaving the school at 4:00 pm after Academic Enhancement. If your student is feeling sick, please do not send them to school.

FTHS: Check out the events for the week! Parent night is Wednesday.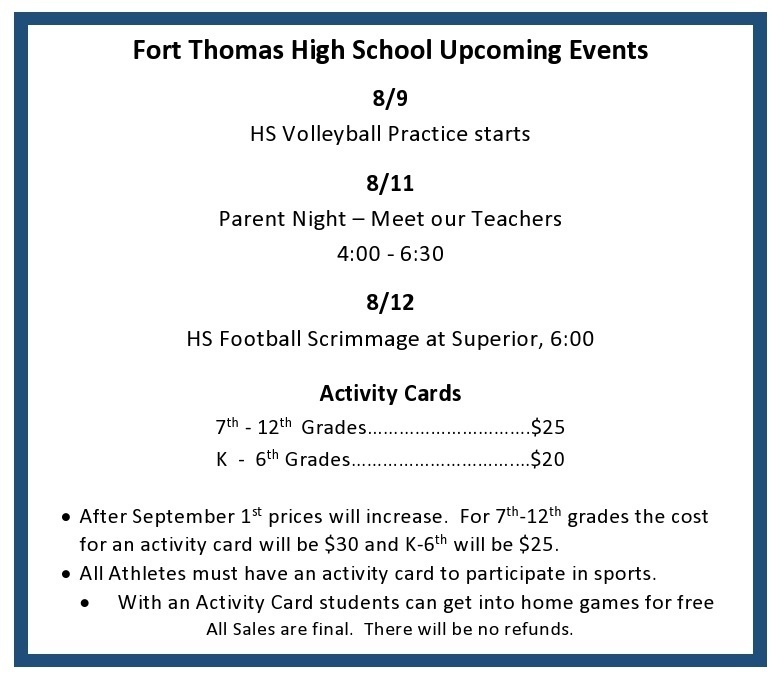 FTHS: School starts tomorrow, August 4th! Please make sure your student is registered. If your student is participating in athletics, they must have a completed physical turned in and purchased an activity card, $25. HS Volleyball starts practice on Monday, August 9th & HS Cheer starts practice on Friday, August 13th at 7:00 am (There will be a bus running at 6:00 am in Bylas). FTHS is currently looking for coaches! Open coaching positions are: High School Cross Country, JH Football, JH Girls & Boys Basketball and an Assistant HS Boys Basketball. If you are interested in any of the positions, please contact the school and apply on the district website.

FTHS: Currently there is an open position for another JH Football coach. If you are interested, please apply on the District website.

FTHS: HS Football practice starts today. The bus will start picking students up at 4:00. Make sure your students are registered, their physicals are completed and have paid for an activity card, $25.